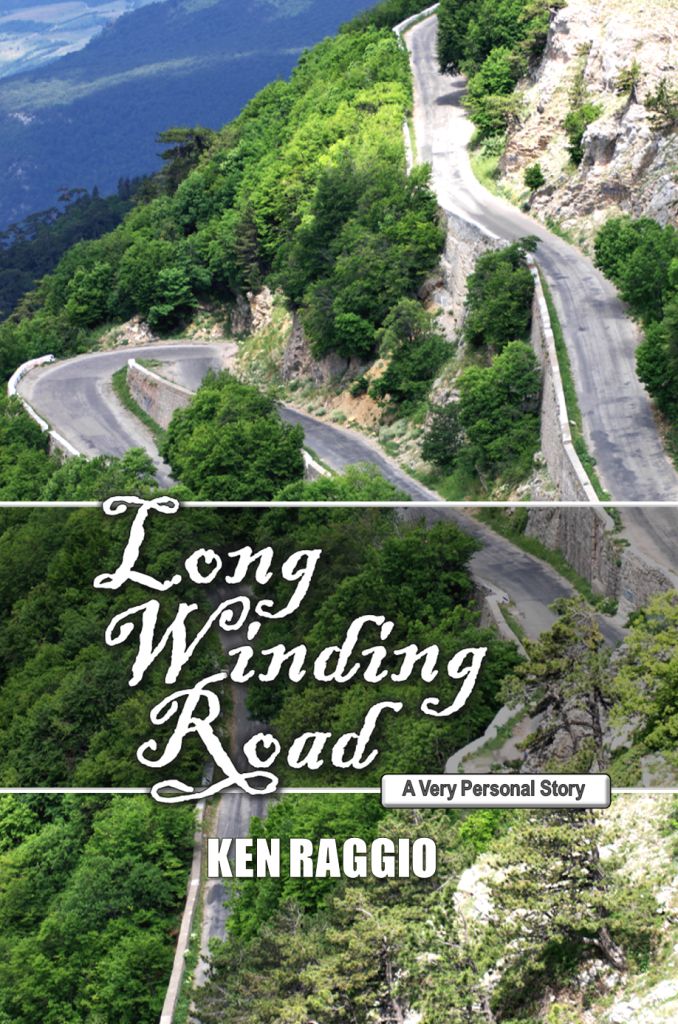 Click here for the
PAPERBACK BOOK.

Click here for the
KINDLE downloadable e-BOOK.

TESTIMONIALS:

"I plan to read it again.
Amazing how God works!" - B.H.M.

"I couldn't put this book down." - R.H.

"Just wanted you to know that
Long Winding Road is the best book
I have read by an Apostolic author
in the last 3 years!" - (Pastor) R.W.

"Have read it and loved it.
Really personal. After I read it
I learned to appreciate Bible and Truth!"
T.D.

"Very good. Everyone should read this." J.P.

"I finished reading the
Long Winding Road this morning
and I highly recommend it!"
J.C.

"We have this book (and quite a few others of Bro. Raggio's), and highly recommend Long Winding Road."
M.& P.T.

"Thank you so much for your book
Long Winding Road.
Thanking you for standing strong in
the face of opposition Brother Raggio!"
J.E.

"Wonderful book! Thank you Bro. Raggio for such an honest and revealing history of your life. So much truth and sincerity. It is very hard to put down when you start reading. I ordered one a few weeks ago and since my pastor said he hadn't read it yet, I ordered another so he could have his own copy."
J.P.

"About midway through this book.
Hard to put it down."
R.S.

"This is not for the easy believist.
Nor for the health and wealthers.
Only those who sincerly desire salvation God's way! I really appreciate the author's honesty." - S.H.

LONG WINDING ROAD
A Very Personal Story

By Ken Raggio

Pentecost!
I might have wished that
I had never heard the word.
In my entire life, nothing else has
affected me more profoundly,
caused me more anguish, or
consumed me more completely than
Pentecost!

I loved it. I hated it. It shaped me.
It destroyed me. It saved me.
One way or the other,
Pentecost
is the story of my life.
It is the Bible way, and I still believe.

It has been a
LONG WINDING ROAD.

EVERY Spirit-filled believer
should read this book!

(310 pages)

TESTIMONIALS:

"This book is absolutely amazing!
It is one of the tools that God used to bring me into the Apostolic Church! God is so good!" - M.S.

"Awesome book!" - S.T.

"Phenomenal read." - T.C.

"I just opened
Long Winding Road
and I am trying to read it,
but I keep weeping.
I'm only on page 20." - J.C.

"Just finished this book.
...It is an absolute must-read.
Absolutely loved it.
Rings true all the way through."
J.R.

"This is a fascinating book about overcoming lifes struggles, test and trials of a Christian. Seeking the truth can be painful and hard. But, one thing for certain, once found, it makes you free. ...If you want to be encouraged and need inspiration in finding that one pearl of a great price, then you will love this book."
T.S.

"This book is absolutely amazing. I went through much the same things in my walk with God. I would recommend this book to anybody and everybody."
Anonymous

"I am about half way through this book at this time. I appreciate his transparency/honest about his life. It shows how careful we need to be when making choices and decisions that are going to effect others, especially our children. I would recommend this to any of my friends."
C.A.

"Great testimony worth buying and reading. I was really touched by this book! A testimony of God's Grace and mercy. Great Book!"
S.S.


kenraggio.com