Believing the WHOLE Gospel
No Part Is As Big As The Whole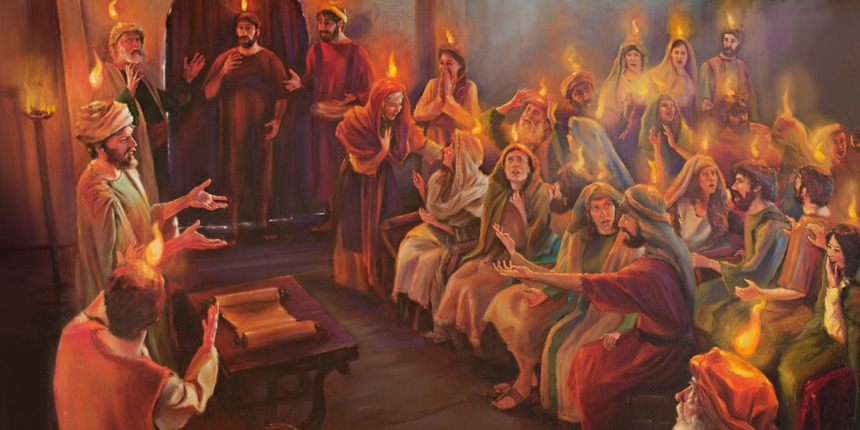 They spoke in other tongues as the Spirit gave them utterance.

By Ken Raggio
Someday soon, the LORD of the harvest will command his reaping angels to gather up the precious fruit of the earth. Jesus will call for all those who are His from every nation. The rapture of the Church and resurrection of all "dead in Christ" is the long-heralded event that all true believers are looking forward to.

But in His day, Jesus asked, "When the son of man cometh, will he find faith in the earth?". The evidence shows that He was concerned about the spiritual condition of the Church in the last days. His own statement demonstrates that Jesus expected to find that many had indeed lost the faith by the time He returned.

No part is as big as the whole.

An elementary law of math is that no part is as big as the whole. The WHOLE gospel contains far more than any creed, doctrinal statement, or organizational platform, and in fact, gospel preachers are specifically admonished to preach the WHOLE counsel of God.

Faith; belief in God and His mighty power; total commitment and consecration to God through repentance from sinful living; baptism in water in the saving name of God (Jesus); and receiving the Holy Spirit - the baptism of the Holy Ghost - in the new birth experience - these are all vital parcels of the apostles' faith.

Not only that, but the early church possessed a holy fervor for the manifestation of God's glory in the church. They preached and practiced sanctification and holiness; separation from the world, the flesh and the devil; and possessed a righteous indignation against compromising their faith.

They were loyal to Jesus Christ and to their own brethren. They held deep-seated convictions that enabled them to stand for their faith in the face of life-threatening opposition. They would rather die for the cause than to compromise their convictions or conform to the ways of the world.

Are we truly like the early Church?

If we are to claim to have the apostle's faith, we have a burden of proof for showing a reasonable facsimile of all their ancient virtues, which included obvious intolerance for any teaching or preaching that was contrary to their original instructions.

Dogma and Dogmatism - a hypocritical accusation

It is a cheap accusation against real believers that they are "too dogmatic." Dogma consists of the tenants of doctrine which form a religious faith. Every believer should have a well-defined, scriptural dogma. But our society, even many so-called Christians, hurl accusations that we are too dogmatic, as if being dogmatic is a crime or an offense. It is impossible to have any kind of religion without a foundational dogma. And it is impossible to have a genuine faith in God without a clearly-defined, Biblical dogma. Dogmatism is NOT a vice. It is a virtue.

We must boldly defend our faith.

We must be brave believers. We must be willing to bear the cruelties of sometimes-vicious critics by firmly, and unwaveringly standing up and speaking out for what we believe is the truth, the whole truth, and nothing but the truth.

Will He find faith in the earth?

Do you think this was only a rhetorical question, or was Jesus truly concerned that Christianity would be seriously compromised in the last days? Will there still be any true saints of God alive? Obviously, Jesus thought it was a legitimate question.

Make no mistake about it. There are millions upon millions of PROFESSING Christians. But how will those professors stand up under Biblical scrutiny? Have they actually kept the same faith that was once delivered to the saints? Have they been genuinely born again in obedience to Jesus' own teachings?

Have you been born again according to the scriptures?

"Jesus answered and said unto him, Verily, verily, I say unto thee, Except a man be born again, he cannot see the kingdom of God. Nicodemus saith unto him, How can a man be born when he is old? can he enter the second time into his mother's womb, and be born? Jesus answered, Verily, verily, I say unto thee, Except a man be born of water and of the Spirit, he cannot enter into the kingdom of God. That which is born of the flesh is flesh; and that which is born of the Spirit is spirit. Marvel not that I said unto thee, Ye must be born again," John 3:3-7.

"And said unto them, Thus it is written, and thus it behoved Christ to suffer, and to rise from the dead the third day: And that repentance and remission of sins should be preached in his name among all nations, beginning at Jerusalem," Luke 24:46-47.

Have your sins been remitted according to the scriptures?

Without genuine repentance, one can never have his sins remitted. Only in the name of Jesus can sins be remitted. Peter preached to the crowds in Jerusalem on the day of Pentecost, convincing them that they had sinned against God.

"Now when they heard this, they were pricked in their heart, and said unto Peter and to the rest of the apostles, Men and brethren, what shall we do? Then Peter said unto them, Repent, and be baptized every one of you in the name of Jesus Christ for the remission of sins, and ye shall receive the gift of the Holy Ghost. For the promise is unto you, and to your children, and to all that are afar off, even as many as the Lord our God shall call. And with many other words did he testify and exhort, saying, Save yourselves from this untoward generation."

Peter's instructions followed the teachings of Jesus, which specifically required "remission of sins in His name," being "born of water," and being "born of the Spirit." By following Peter's command in Acts 2:38, all three requirements were being fulfilled: 1. Repentance 2. Water Birth 3. Spirit Birth.

Without this critical doctrine of the New Birth, it is impossible to gain access into the Kingdom of Jesus Christ. This is the primordial doctrine of the early Church. This is the message that produced the first body of believers on the day of Pentecost. Death - Burial - Resurrection. Repentance - Water Baptism - Spirit Baptism.

"Except a man be born of water and of the Spirit, he cannot enter into the kingdom of God."

Only those who are truly born again are in the New Testament Church.

The true Church of Jesus Christ consists of men and women who have been born again by both water baptism and Spirit baptism.

Modern Christianity has lost this distinct plan. Easy-believism is order of the day. Name it and claim it. Say "Jesus is LORD" and you are saved. Sorry, my friend. Nothing could be further from the truth.


Unless and until you have acknowledged your sins and repented of them, you are still guilty of them, and they will still condemn you at the judgment. If your sins have not been remitted, they are still on your account. And the scripture plainly says that without the shedding of blood there is no remission of sins. Your sins will not be remitted until they have been washed in the blood of Jesus. And Peter says that water baptism in the name of Jesus Christ is "for the remission of sins."
"Know ye not, that so many of us as were baptized into Jesus Christ were baptized into his death? Therefore we are buried with him by baptism into death: that like as Christ was raised up from the dead by the glory of the Father, even so we also should walk in newness of life. For if we have been planted together in the likeness of his death, we shall be also in the likeness of his resurrection," Romans 6:3-5.

Until YOU have been buried in His name in baptism, your sins have not been buried in the blood of Jesus. It is the New Testament plan. I didn't write it. Jesus and the Apostles did.
You are either saved or damned.

Jesus said, "He that believeth and is baptized shall be saved; but he that believeth not shall be damned," Mark 16:16.

If eternity means anything at all to you, and if you do not want to be lost and condemned for all eternity, then it is vital that you follow the clear instructions of Jesus and the Apostles into a scriptural New Birth experience. Simply stated, it requires repentance, baptism in the name of Jesus Christ for the remission of sins, and receiving the gift of the Holy Ghost, just as they received it on the day of Pentecost in Acts 2, speaking in other tongues as the Spirit of God gives the utterance.

Christianity is not validated by becoming a vast entrepreneurial enterprise. A multi-million-dollar event center does not make a church. Massive television studios are not a church. Performing arts centers, orchestras, and million-dollar stage shows do not make a church.

The true Church of Jesus Christ will be hated by Hollywood and Wall Street.

Jesus said, "If the world hate you, ye know that it hated me before it hated you. If ye were of the world, the world would love his own: but because ye are not of the world, but I have chosen you out of the world, therefore the world hateth you. Remember the word that I said unto you, The servant is not greater than his lord. If they have persecuted me, they will also persecute you; if they have kept my saying, they will keep yours also. But all these things will they do unto you for my name's sake, because they know not him that sent me," John 15:18-21.

It is fair to ask, (and Jesus DID ask), "When the son of man cometh, will he find faith in the earth?" Will anybody actually believe the things we taught in the early Church?

The Original Faith

When Jude urged his readers to "earnestly contend for the faith that was once delivered to the saints," he transmitted a responsibility to believers in every generation to deliver evidence that their faith was of the same genre as the original believers'. That includes this twenty-first century.

Too much of today's Christianity bears little or no resemblance to that of the Early Church. The simple fact that there are so many varieties of Christian theology should alarm us to the reality that at least SOME, if not MANY cannot be true.

Conflicting Gospels

The media bombards our society with countless versions of the gospel. Some versions are so utterly bizarre that I cannot understand why people are so gullible to believe them. Selling bottles of water, bottles of oil, miracle cloth, and so many things that may appear ingenious, but completely irrelevant to the gospel. Meanwhile, in far too many cases, the gospel is NOT being preached in its true form.

People who really want to know God could conceivably spend a lifetime pursuing phony versions of the gospel without ever stumbling across enough gospel to save their eternal souls.

The Hazards of the Wrong Gospel

The horrifying tragedy is that well-meaning people are giving themselves to lifetimes of misguided religious devotion, only to find at the judgment bar of God that He never knew them.

Jesus said, "Beware of false prophets, which come to you in sheep's clothing, but inwardly they are ravening wolves. ...Not every one that saith unto me, Lord, Lord, shall enter into the kingdom of heaven; but he that doeth the will of my Father which is in heaven. Many will say to me in that day, Lord, Lord, have we not prophesied in thy name? and in thy name have cast out devils? and in thy name done many wonderful works? And then will I profess unto them, I never knew you: depart from me, ye that work iniquity," Matthew 7:15,21-23.

The prevailing trends in Christianity are toward ecumenism, which, by definition, is completely indistinct. Ecumenism only leads men further and further from the soul-saving distinctions in the plan of salvation.

Flee these worldly trends, and embrace everything Jesus and the Apostles taught! Believe the WHOLE Gospel!





SEE ALSO: DON'T LET THE LIGHTS GO OUT

SEE ALSO: HOLINESS: A PLACE APART FROM FORBIDDEN THINGS
SEE ALSO: WHICH IS BETTER - HEATHEN OR HERETIC?

SEE ALSO: EVERYBODY NEEDS A BACKBONE