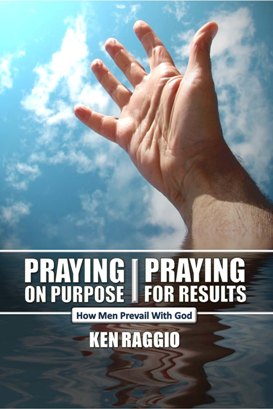 PRAYING ON PURPOSE
PRAYING FOR RESULTS
is a comprehensive look at
how men prevail with God.

Forty-five years of experience in ministry
are invested in this book.

Amazing stories and testimonies combined with some of the richest Bible lessons anywhere on the subject of prayer.

Includes a wealth of the best quotations on prayer from centuries past.

Over 100 choice Bible lessons from both
Old and New Testaments.

An extraordinary illustrated lesson on
PRAYER in the Tabernacle Plan.

If this book does not inspire you
to pray more than ever before,
you may be in serious trouble.

Includes scores of PRAYER STARTERS -
100-word sample prayers
on a large variety of topics.

Includes suggestions for creating an
effective prayer list, and space to do so.

Forever improve your prayer habits.
Break through to a new dimension of prayer.
You will wonder why you ever prayed less.


TESTIMONIALS:

"I am actively reading and implementing the instruction. This is a very good book."
G.S.

"I had just about given up on the prayer books.
It got to where they all say
pretty much the same stuff.
This one is different. I am truly enjoying it."
L.D.

"I've been reading your book
Praying On Purpose.
Awesome testimonies...difficult to put down."
J.B.

"I am grateful for this book - it is both
inspiring and very thought provoking. I have
recommended this book to several others.
Prayer is essential to Christian life and this
book will help you to live it more abundantly.
Thank You Rev. K. Raggio."
J.H.L.

"This is one of the most exhaustive books on the subject of prayer that I have found. I would highly recommend it to anyone wanting to go to another level in your Christian prayer life."
D.F.

"One of the best books on prayer that I have read. Explains all aspects of prayer and gives many examples of answered prayers. Also gives many examples of types of prayers."
M.A.

"Great Book! Rev Ken Raggio pulls no punches when it comes to his writing.
He has a great blog as well."
R.P.W.

"Everyone should read this book,
and apply it's teaching!
It will revolutionize your life!
I highly recommend it!
It has reawakened my prayer life."
C.M.

"This book is awesome.
If you want to learn to pray effectively
this book is a must read for you!"
J.N.

Click here for the
PAPERBACK VERSION

Click here for the
Amazon KINDLE e-Book
Digital Download
can also be read on most computers
using Kindle software for WINDOWS
also downloadable for FREE.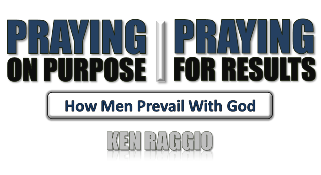 278 pages of some of the most powerful things you have ever read about prayer.

An extraordinary, emotional, practical, exhilarating study of the power and glory of prayer.

What makes prayer work? What makes prayer fail? One of the most dynamic and inspiring books on prayer that you will ever read. A real page-turner.
You will never be the same after reading this book.

CHAPTER TITLES INCLUDE:

I Give Myself Unto Prayer
Daily Intercession
No Time to Pray
Making a Prayer List
Praying by Notes
Why People Do Not Pray
Priorities in Prayer
Track Your Results
About Intercession
How to Intercede
How to Pray
You Can Call on that Name
Angels and Answers
Praying in the Spirit
Unimaginable Miracles
"Life or Death" Prayers
Fasting and Praying
Confrontational Prayer
Binding and Loosing
Speak to the Problem
Blessings and Curses
Prevailing Prayer
A Quiet, Solitary Place to Pray
God's House of Prayer
Into The Most Holy Place
Let Us Pray
Pray With Me
Approaching The Mercy Seat
Prayer Starters
My Positive Confession
Basic Principles Of Prayer
Notable Prayers in the Bible
Valuable Quotes On Prayer
102 Select Prayer Topics


TESTIMONIALS:

"Bro. Raggio, just a short note to tell you
thank you for placing a note about
your book on prayer on Facebook.
I read it from digital cover to digital cover
soaking in all of its knowledge. What a blessing.
I took your writing to heart and
I am developing a more powerful prayer life
and a more detailed prayer list.
Thank you for your service,
you truly have changed my life."
W.G.

"I purchased and read your book on prayer last night. Excellent read. It has stirred me to reach for higher heights in God. Many thanks!! I am also enjoying your Bible Companion and I highly recommend it to all. Thanks you for all you do to bless others in the kingdom of God."
M.B.

"Recommended indeed!!" - T.O.


Click here for the
PAPERBACK VERSION

Click here for the
Amazon KINDLE e-Book
Digital Download
can also be read on most computers
using Kindle software for WINDOWS
also downloadable for FREE.


See OTHER BOOKS by Ken Raggio

See MY DAILY BIBLE COMPANION
a 2-Volume, 1488-page
Comprehensive Study Guide
and Bible Commentary.

Return to KENRAGGIO.COM