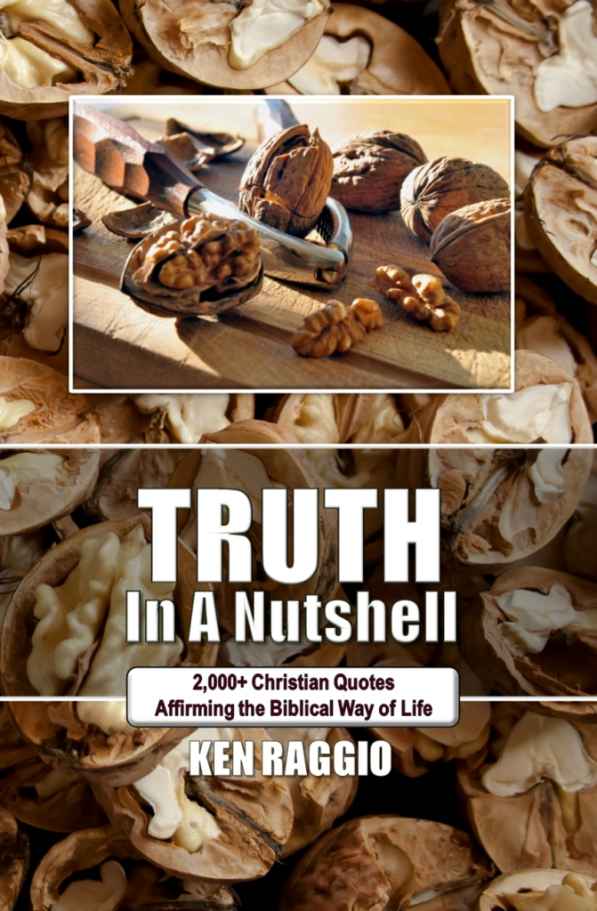 READERS SAY:
"Ken Raggio clears up confusion about
what people think is in the Bible;
and tells the truth about Biblical truth."
L.W.

"I LOVE your Tweets and quotes!" - B.B.

"This man's Tweets will try your heart as to
whether or not Jesus IS really Your LORD." - J.

"Thanks for saying it like it is.
Your tweets encourage and challenge me." - R.M.

"You tweet some of THE most powerful messages! I meditate on one, & then another powerful one comes! God bless you." I.B.

"Your tweets are very good. Keep on tweeting!" - K.K.

"Keep fanning the flame, Ken! Keep fanning the flame!" - JAC




TRUTH
IN A
NUTSHELL
188 Pages

This book contains over
2,000 provocative and
inspiring QUOTES that affirm
the New Testament way of life.
The majority of quotes
are from Ken Raggio,
but this book also includes
hundreds of great quotes
from other Christian writers
AND powerful scriptures.
AN AWESOME RESOURCE
for Twitter, Facebook,
Sermons, Lessons,
Bulletins, Newsletters.

Click here for the
PAPERBACK VERSION

Click here for the
KINDLE e-BOOK
(downloadable)



READERS SAY:

" I love your Tweets! Thanks for being a Godly example and spreading the gospel!" - B.J.

"I love reading your posts!" - Michael F.

"Reading your tweets is a fantastically inspiring addition
to Twitterville." - A.A.

"Your tweets have blessed me and encouraged me a lot!
God bless you!" - K.B.

"I really enjoy reading all your posts on Facebook and Twitter." - B.C.

"Thank you for your daily posts!" - G.R.