Diplomatic Terrorism becomes Islam's global weapon against Israel.

By Ken Raggio

2/9/13
Global Islamic organizations are escalating "diplomatic terrorism" against Israel.
According to
Bernama
, the Malaysian National News Agency, the 56-Member Organization of Islamic Cooperation (O.I.C.) has adopted a resolution to establish the "Islamic Financial Safety Net" to assist Palestine. Reports in late 2012 from the World Bank said that the West Bank faced a $400 million shortfall, and called it "a time of deepening crisis."
The O.I.C. action is alleged to be a response to Israel's recent decision to withhold substantial funding from the Palestine Authority because of the unilateral "Palestinian provocation" (statehood application at the U.N.). Palestinian statehood would technically reduce Israel to its pre-1967 borders and take East Jerusalem.
In December, Israel cut off $118 million in tax-transfer payments to the PA following their attempts at statehood, and their accession from "Observer ENTITY" to "Non-Member Observer STATE" at the United Nations.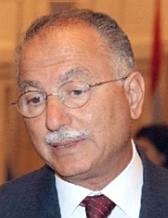 The O.I.C. resolution, passed at the 12th Islamic Summit Conference in Cairo, Egypt on February 8, 2013, requires
O.I.C. Secretary-General Ekmelidden Ihsanoglu
(pictured) to ascertain that the financial assistance to Palestine is implemented successfully. Ihsanoglu indicated that a conference would be held to increase financial support for Palestine.
"Development of the City of Al-Quds [Jerusalem]"
The summit called for the O.I.C. General-Secretariat and member states to work with the Islamic Development Bank and international institutions to guarantee Palestine the funds for the "
Strategic Sector Plan for the Development of the City of Al-Quds
." Al-Quds is the Islamic name for Jerusalem. This plan implies the Islamic development of Jerusalem, as an Islamic countermand to the Jewish settlements.
Diplomatic terrorism.
The O.I.C. also expressed support for a 2012 UN Human Rights Council report describing Israeli settlements as a violation of international law, and therefore a war crime.
Diplomatic terrorism.
What is the significance of these developments?
We are witnessing a major escalation in Muslim encroachment and claims against Israeli sovereignty over Jerusalem and the West Bank.
The practical interpretation of the O.I.C. action is that the entire Islamic world is stepping up its efforts to take over Jerusalem, the West Bank and Gaza, and destroy Israel diplomatically, politically, and geographically.
The 22-Member Arab League, based in Cairo, formally backed the Palestinian statehood application in May, 2012. At least 18 of 22 Arab League members do not recognize the State of Israel. Worldwide, at least 36 nations (mostly Islamic) do not recognize Israel. The U.N. does not recognize Jerusalem as the capital of Israel, but the "Palestinian Declaration of Independence" names Jerusalem as its capital.
The U.N. General Assembly passed resolution 67/19 on November 29, 2012, with 138 votes from the 193-member body, implicitly recognizing the P.L.O.'s territorial sovereignty.
Its new rank as "Non-Member Observer State" at the U.N. is equal to that of the Vatican State, and gives it vastly expanded rights among nations and at the U.N.
Official statehood must be approved by the U.N. Security Council, but the PA avoided that action, knowing that it would face a U.S. veto. Instead, it settled for "Non-Member Observer STATE" status which could be obtained by a 2/3 majority in the U.N. General Assembly. It was an end-run around the Security Council.
Diplomatic terrorism.
Many see the recent U.N. action as de facto recognition of Palestinian statehood. The P.L.O./Palestinian Authority recently changed its name to "State of Palestine." The P.L.O. began in 1964 as a para-military [terrorist] organization, which the United States considered to be terrorists until 1991. Yasser Arafat was its chairman from 1969 until his death in 2004. Abu Mazen, better known as Mahmoud Abbas, has been its chairman since that time.
On January 23, 2012, Palestinian Foreign Minister Riad Malki spoke in the U.N. Security Council while seated behind a nameplate that said, "State of Palestine." Mahmoud Abbas also announced that future letterhead and signs would bear the name "State of Palestine."
Diplomatic terrorism.
But U.S. Ambassador Susan Rice objected to the use of the appellation "State of Palestine" at the United Nations. She said that the United States does not recognize the General Assembly vote in November "as bestowing Palestinian 'statehood' or recognition."
Ambassador Rice also said that "any reference to the 'State of Palestine' in the United Nations, including the use of the term 'State of Palestine'...[does] not reflect acquiescence that 'Palestine' is a state."
Despite decades of wrangling, Palestinians have never yet built a viable state, failing to build an adequate physical infrastructure or an indigenous, fiscally-capable government. Infightings between the P.L.O, Fatah and Hamas organizations have resulted in decades of gridlock. Statehood would still require almost complete third-party donor support.
Nevertheless, the (legally non-existent) State of Palestine is hastily exploiting its newly-acquired options at the U.N., which include claiming rights over territorial waters and airspace, claiming control over the territory at the International Court of Justice, and bringing war-crime charges against Israel at the International Criminal Court.
Diplomatic terrorism.
Israel's Deputy Foreign Minister Danny Ayalon, while attending the U.N. in November, asked that all international donors withhold funding from the Palestinian Authority, noting that much of the money goes directly into terrorism.
Israeli Foreign Minister Avigdor Lieberman called PA President Mahmoud Abbas a "diplomatic terrorist," which draws attention to the fact that the entire Muslim world now seems to be focusing on "diplomatic terrorism" as a new and formidable weapon against Israel.
In early February, reports began to circulate that the PA will apply for membership in the International Criminal Court, which will enable it to file charges of genocide, war crimes, and other human rights violations against Israel.
Diplomatic terrorism.
It appears inevitable that the PA will pursue every diplomatic avenue to terrorize Israel into surrendering Jerusalem, the West Bank and Gaza.
LIST OF STATES THAT DO NOT RECOGNIZE ISRAEL:
Algeria, Bahrain, Iraq, Kuwait, Libya, Malaysia, Morocco, Somalia, Tunisia, Yemen, Afghanistan, Bangladesh, Cuba, Indonesia, Pakistan, Qatar, Saudi Arabia, United Arab Emirates, Brunei, Djibouti, Sudan, Guinea, Comoros, Mali, North Korea, Niger, Chad, Oman, Bhutan, Iran, Lebanon, Syria.
LIST OF STATES THAT DO NOT RECOGNIZE PALESTINIAN STATEHOOD:


Andorra, Armenia, Australia, Austria, Bahamas, Belgium, Cameroon, Canada, Colombia, Croatia, Denmark, Eritrea, Estonia, Fiji, Finland, France, Germany, Greece, Guatemala, Haiti, Ireland, Israel, Italy, Jamaica, Japan, Kiribati, South Korea, Latvia, Liechtenstein, Lithuania, Luxembourg, Macedonia, Mexico, Micronesia, Moldova, Myanmar, Nauru, Netherlands, New Zealand, Norway, Panama, Portugal, St. Kitts and Nevis, Samoa, Singapore, Slovenia, Solomon Islands, South Sudan, Spain, Sweden, Switzerland, Tonga, United States, United Kingdom.
Please see also:

Islam Demands Seat On U.N. Security Council


Antichrist Rising?
Will Powerful Islamist Become Next U.N. Secretary-General?


The Third Jewish Temple:
Prophecies Reveal That Jerusalem Will Be Divided


For additional information and teaching on this subject,
please see this EXTENSIVE article:

Lessons from Daniel Chapter 11 on the coming Assyrian

Do They Have Armageddon In Mind?
Russia and Turkey Strengthen Alliances

The Green Horse of Prophecy - Islam


The following articles explain many of the relevant Bible prophecies in detail.

An in-depth explanation of
"Daniel's Prophesied Seventy Weeks"


For an in-depth explanation of the Rapture, read this article:
"When Will The Rapture Take Place?"